Wintergreen trails for preschool children
Make sure your children take on trails that match their skill level, size, and physical and emotional maturity. Young children will need constant contact attention outdoors at Wintergreen. An eye on the weather is always wise in the mountains, but especially when hiking with kids. Check over these proven tips for hiking with young kids from Jessica Averett.
Upper Shamokin Falls Trail and Morgan's Loop
Distance: 0.4 mile.
Blaze Color: Yellow.
Difficulty Level: MODERATE. Allow plenty of time with strict supervision, not advised for younger tots.
Key Features: waterfall, stream, a family favorite. Morgans Loop offers a return from Upper Shamokin Falls with another view of the waterfall.
Google map directions to trailhead
• Allen Creek Nature Preserve
Distance: .7 miles. Blaze Color: Blue. Difficulty Level: EASY.
Key Features: wetland, rare plants, picnic spots.
Google map directions to trailhead in Stoney Creek
Children and the parenting and grandparenting networks around Wintergreen, Nelson County, and beyond are in agreement: The wooden swing sets made with branches, a huge sandbox pit, large rocks to climb on, a mud kitchen, and (most unique) a creek kids are welcome to play in (and more) that sits behind the Rockfish Valley Foundation's Natural History Center on Route 151 south of Nellysford is awesome. More here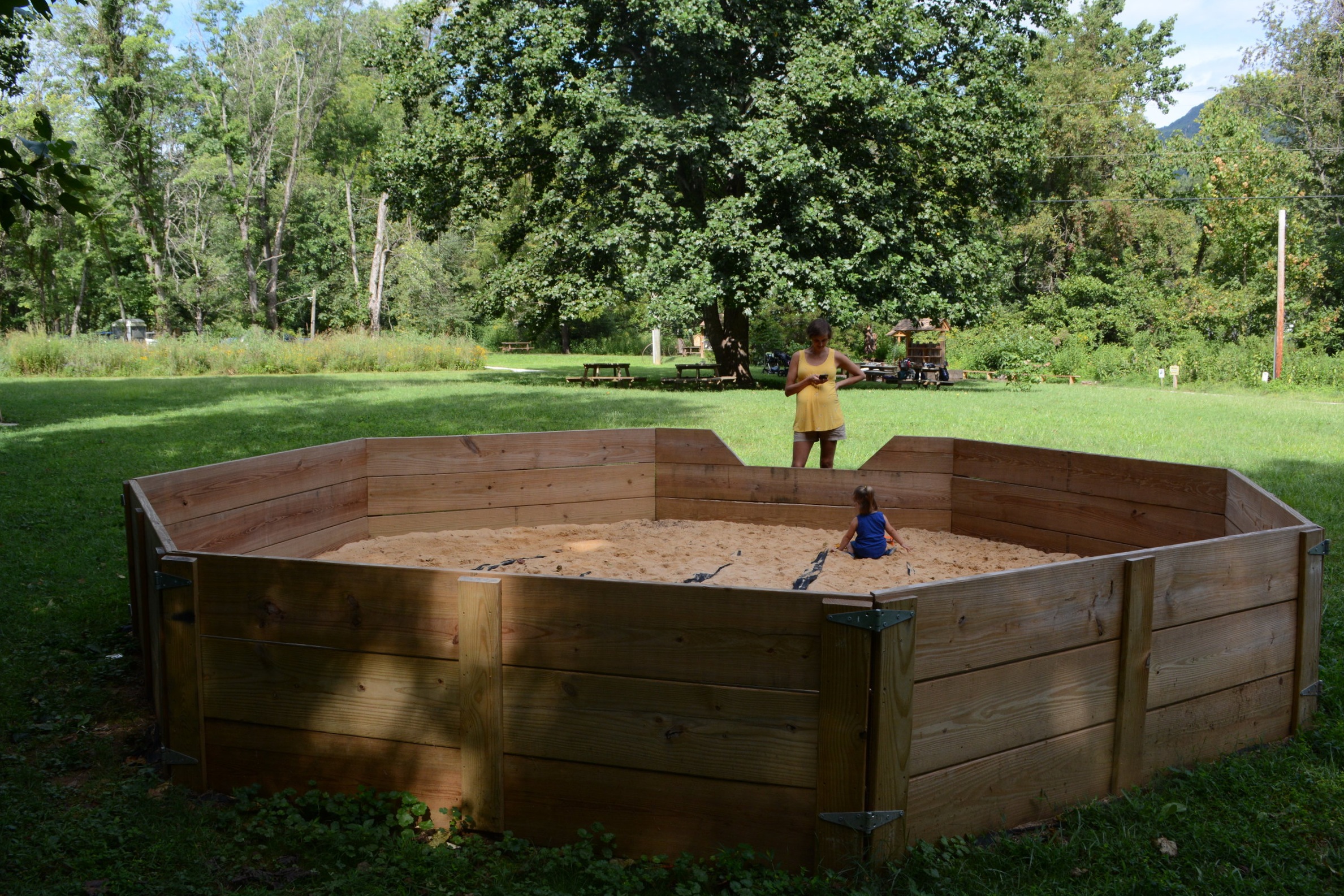 Wintergreen has over 30 miles of mountain and valley trails,
from extra easy to very challenging
Paper trail maps make for a more safe and enjoyable hike at Wintergreen. Maps are available at Wintergreen Resort's Mountain Inn and the Nature Foundation at Wintergreen.
The Nature Foundation at Wintergreen's volunteers and staff maintain Wintergreen's trails. The trails are open to the public. Nature Foundation's naturalists at Trillium House offer interpretive hikes several times a month. See the nature foundation's calendar here.
While Wintergreen is a resort community, know that the many of the mountain and valley trails here–like most trails in the Blue Ridge Mountains–insist on being taken seriously.
It's wise to have serious footwear as no path is perfect. A serious respect for the wildlife (both big and tiny, plant and animal) is also smart. The weather is a different force among the mountains that deserves extra consideration. Allow plenty of time for your hikes so as to be more safe and to also fully enjoy the trails. Don't rush. Be alert. Take care when walking in Wintergreen's wilderness, which starts and ends with your first and last step on any trail.
You hike at your own risk.
Therefore,…
Be aware that the weather can change rapidly.

Do not hike alone.

Do not underestimate the terrain.

Carry drinking water and a snack.

Be aware of wildlife and respect its space.

Wear proper attire, including footwear.

Carry a hiking map.

Stay on marked trails.

Be aware of your limitations.

Carry a cellphone, but know that coverage is not everywhere.

Most of the trails are open in the winter, but just a little snow and ice can make even easy trails treacherous.
Also see four famous hiking trails near Wintergreen